Lucy Fur, Cast Out of Heaven High
Girl Expelled Over Same-Sex Kiss Files Suit



from PlanetOut

A private
school in Loganville, Ga., is facing a $1 million lawsuit after school authorities expelled a ninth grader for kissing another girl during a slumber party.

Jessica Bradley was ejected from the Covenant Christian Academy for showing "disregard for the spirit of the school standards," after word of the kiss filtered up to the school's principal last spring. According to press reports of the complaint, Jessica's father, Ronald Bradley, sued the school for invasion of privacy and breach of contract, arguing that the school reneged on its promise to educate his daughter in exchange for tuition.
Mothers and Fathers: Be vigilante against the scourge of lesbianism! Don't let your daughters be seduced by sin and lipstick! Know the signs of sordid sapphism! Is your daughter unusual or different? Does she have close personal friendships with other girls? Even sleepovers? Then the time to act is now!
Last week,
the school delivered its answer to the Gwinnett County Superior Court, maintaining that the religious-based decisions of a Christian school are not subject to judicial review. But speaking to the Associated Press, Bradley's lawyer, David Clark, said that the Constitution's guarantee of religious freedom "does not give [the school directors] the absolute right to act how they wish to act."
It starts innocently enough - seduction and sin always do! But that's the cunning of the lesbian predator: First she befriends your daughter, then they change in front of each other like normal girls do, and then suddenly: cunnilingus! In your bed! In the food you ate for dinner! Urinating on the Bible during their sick perversions. Don't be fooled if your daughter claims that they are only friends! The mouth that spoke that lie has been buried in the holy places of a woman that God meant only for men! It's a filthy, lying mouth! Slap it!
According
to the Atlanta Journal Constitution, the off-campus slumber party took place April 22. Four days later, Jessica and a few other girls were called into McKinnon's office and interrogated for over an hour. Jessica, who was also accused of sharing an earlier kiss with a different girl, was expelled, despite her 3.5 grade point average.
Once one innocent girl is corrupted, the lesbian's plot becomes clear: Takeover of the world! Together, the sexual vampires will venture out in their schools and communities, seducing one young girl at a time, until a cancerous filth of depraved lesbians has spread throughout our communities, from the gyms to the streets, lesbian will rule the world and destroy society! All in the name of their lord, Satan!
Although
the school handbook prohibits "sexual immorality," along with the usual high school taboos, there is no explicit mention of same-sex kissing. As for the policy against showing disregard for the spirit of school standards, Bradley's attorney argues that the vague language in this and other school regulations makes them unenforceable in cases such as Jessica's.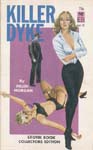 Like the malignant tumor or the negro on a bus, the lesbian influence must be brutally excised lest it infect others - turning God-fearing young girls into sex-drazed heroin-addicted man-hating child pornographer she-male bull-dykes! And all because you spared the rod! What's that knock at the door? It's your little angel Cindy's mannish gap pal Veronica, asking if Cindy is in so they can study French together...or so so she says! French it will be, alright, from cunnilingus to kissing! And then the vegetables and candles and Bible! That filthy dyke whore! What are you going to do?
The Bradleys have since moved to Pennsylvania.
Now legally, we can't tell you to stone or burn the offending lesbian to death, or to drag her in your house while no one is looking and bludgeon her to death and dump her body in lye acid - only the Bible can tell you that. But we can't control what you do. But do what you must! Do It for God! For Humanity! For America! For Family! For Decency! For your daughter's mortal soul! Don't let the terrorists win!
That's right, you filthy lesbian! Run! Run back to Hell!