Pat 'Doomsday' Robertson on Fucking, the French & the Fucking French
'Europe in the Midst of Racial Suicide'
from Sploid
Bible-thumping
doomsayer Pat Robertson is at again, this time decrying the declining number of babies in Europe.
"Europe is right now in the midst of
racial suicide
because of the declining birth rate. And they just can't get it together. Why? There's no hope," he preached from his televised pulpit,
The 700 Club
.
It's seems crazy uncle Pat's been doing some reading and he's learned that "having babies is a sign of a faith in the future. You know, unless you believe in the future, you're not going to take the trouble of raising a child."
As is the case with most things bad or evil in Europe,
the blame can be placed at the feet of France
, according to Robertson.
"When you go back to the existentialism of Jean-Paul Sartre, the whole idea of this desperate nightmare we are in -- you know, that we are in this prison, and it has no hope, no exit. That kind of philosophy has permeated the intellectual thinking of Europe, and hopefully it doesn't come here."
Bad news, Pat, it's here. It's been here for quite awhile.
Since 1900 the country's population has nearly quadrupled, climbing from 76,094,000 to 299,598,000. That works out to an annual increase of about 1.30%.
But America hasn't seen growth anywhere near that since the days of Nixon. In 1971 the population jumped 1.26 %, exceeding 1.17% for the only time in the past 40 years.
In fact, we're currently experiencing the slowest non-Depression expansion of the past century. Since 2000,
the average growth has been under .9%
.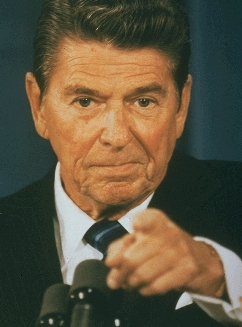 The only other time America came close was during the Reagan administration. From '83 to '89 growth was just hair over .9%.
Whether the nation was still groggy from stagflation, or if all that coke made American's entirely unappealing to each other, is unclear. It wasn't until the elder Bush took office that the country got back into the business of making babies.
What is clear is that the two presidents of the modern era most known for their "faith" have driven the nation into a deep, sexless despair.
Maybe it's the idea of being led into the Apocalypse by some wing-nut who thought he was answering to a higher power.