A Pope? A President? Osama?
Who Would Jesus Assassinate?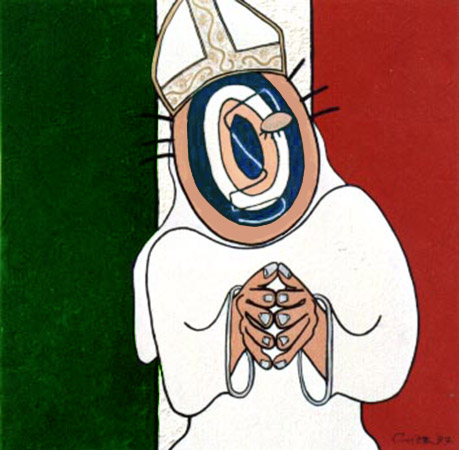 Pope Gunman Offered To Capture Bin Laden, Planned To Kill Late Syrian President
from The Associated Press
The
Turkish man who shot Pope John Paul II offered in 2000 to capture al-Qaida leader Osama bin Laden and planned to kill the late Syrian President Hafez Assad, a Turkish newspaper reported Tuesday, printing what it said were letters the gunman wrote.
The Hurriyet
newspaper printed handwritten letters purportedly penned
by Mehmet Ali Agca.
In one letter, dated Sept. 1, 2000, and addressed to the head of the Turkish intelligence agency, Agca asked to be released from prison so he could travel to Afghanistan, infiltrate Bin Laden's terror network, and capture him
"dead or alive."
"I would lovingly carry out this historic mission even if it cost me my life," Agca wrote. "If I become a national hero in America, this would be good for the Turkish people and the Turkish state."
Agca also claimed in the same letter that he had planned two attempts on the life of the late Syrian President Hafez Assad - whom he called an enemy of Turkey - between 1979 and 1980. He did not elaborate.
Agca's lawyer, Mustafa Demirbag, said he could not confirm the authenticity of the letter. The newspaper provided no details about how it obtained the letter.
There have been questions about the mental health of Agca, who has been known for frequent outbursts and claims that he is the Messiah or Jesus Christ.
Agca was released from an Istanbul prison last week after serving 25 years in Italy and Turkey for the 1981 attempt on the pope's life and the murder of a prominent Turkish journalist. Agca's arrival Monday at the military hospital was his first appearance in public since he vanished hours after his release last Thursday. He later slipped away again from the hospital in a speeding car.