Christians: Under the Hood, They're All the Same
'Caller, I'm so glad you asked. My message is, simply, love. Love thy neighbor. Except, of course, if he's a fag. Or a nigger or kike or chink or a-rab or hippy or Democrat or Mormon or bitch who don't know when she should shut up. Them you kill. Yea. Next caller...'
KKK Rallies To Oppose Gay Marriage
from 365Gay
Des Moines,
Iowa - The Ku Klux Klan is preparing to stage a demonstration next month in Des Moines, Iowa to protest a lawsuit seeking marriage equality for same-sex couples.
The protest and rally is being organized by the leader of the Klan's northern Iowa branch.
"We don't believe God's law should be perverted any more than it already has been," said Douglas Sadler, 41, who identified himself as the region's imperial klailiff.
"The further we go away from God's law, the further we get away from God."
Six same-sex couples filed suit earlier this month in Polk County seeking to have Iowa's Defense of Marriage Act struck down. The suit argues that under the equal protection and due process guarantees in the Iowa State Constitution it is unlawful to bar same-sex couples from marrying.
Sadler predicted a large number of Klan members would attend the rally, and suggested that gays should be exterminated.
"We don't believe they have the right to marry," Sadler told the Associated Press. "In fact, we don't think they have the right to exist."
OK, everyone! Hoods off! Suits on! Bring up some blacks! Look respectable and remember: We don't talk about murdering them with our hoods off. Dubya, put away that noose! Idiot! Cameras ready? OK, here we go. Five...four...three...
Anti-Gay Group Targets New NBC Drama
from PlanetOut
A television drama about an Episcopal priest, set to debut next week, has prompted protest from right-wing religious activists - in part because the show features a gay character as the priest's son.
The American Family Association is urging members to send letters of protest to NBC about the show,
The Book of Daniel
, which the group believes is not a favorable depiction of Christian people.
The series centers on a priest named Daniel Webster and his family. According to the AFA, Webster's family includes "a 23-year-old homosexual Republican son, a 16-year-old daughter who is a drug dealer, and a 16-year-old adopted son who is having sex with the bishop's daughter."
In a plot device reminiscent of
Joan of Arcadia
, the priest has visions of Jesus and frequent conversations with him. The AFA termed the show's depiction of Jesus "very unconventional."
Aidan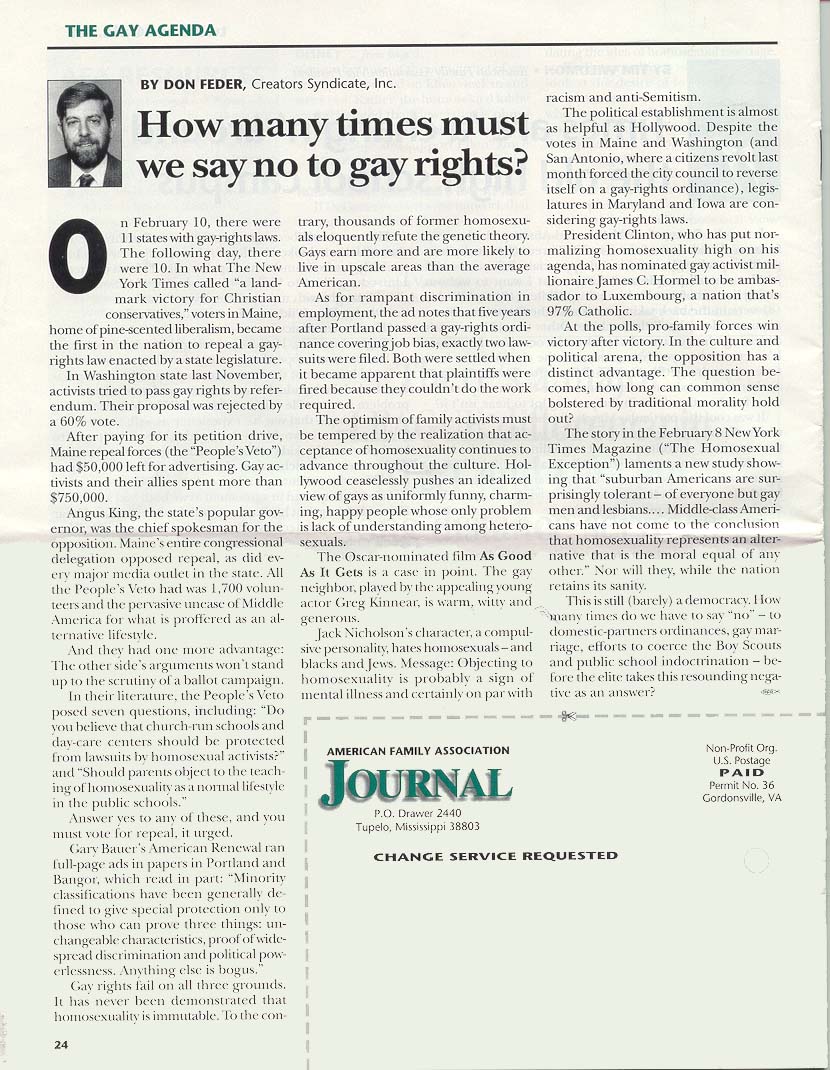 Quinn, who plays the priest, called the series "wholesome" in an interview published Tuesday by the Associated Press.
"I honestly don't think it's going to be nearly as controversial as some people may now be afraid of," Quinn said. "It just has the courage to deal with some of the real issues that go on in people's lives."
The show is scheduled to air Fridays beginning Jan. 6.