Grand Old Parish
Church Leaders Criticize N.C. GOP for Directory Request
from The Associated Press
RALEIGH, N.C. - Some church leaders in North Carolina have asked their members to ignore a request made this week by the state Republican Party for copies of church directories that the GOP wants to use in voter registration efforts.
A spokesman for the Catholic Diocese of Charlotte, which covers 46 counties, said the group does not share parishioners' contact information with anyone.
"If a pastor were to seek some guidance from the diocese chancellory - the diocese's offices - we would remind him of this general policy that prohibits the sharing of personal information," said David Hains, the communications director for the diocese.
That message would apply to parishioners as well, he said.
The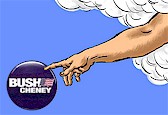 request, sent statewide by e-mail Thursday, said that research by the national Republican Party shows "people who regularly attend church usually vote Republican when they vote."
Chris Mears, the political director for the state GOP who sent the request seeking directories from church members, referred questions to Bill Peaslee, the party's chief of staff.
"In doing voter registration, you always go to where your base is," Peaslee said.
The request says the directories would be used for "voter registration, education and GOTV (get out the vote) purposes only."
National religious leaders criticized a similar Republican effort during the 2004 presidential election. The state party gets an occasional complaint about the request, which it has made in the past, Peaslee said.
"The Republican Party believes that people shouldn't leave their moral and spiritual beliefs at the door of the polling place," Peaslee said. "We're just appealing to one of our constituencies, just as the Democrat Party does...The Democrats may feel it's more profitable to go and do voter registration drives at a homosexual convention. We feel more comfortable going to churches."
State Democratic Party Chairman Jerry Meek said that party doesn't seek membership lists.
"We believe that people go to church to worship and not to sign up to receive Republican propaganda," Meek said. "I would say the vast majority of Democrats are Democrats because of their faith, not in spite of it. But that is a place that is so sacred that we should not inject politics into the church."
The Rev. Ken Massey of First Baptist Church in Greensboro said he believes the perception that more churchgoers vote Republican is correct so he doesn't fault the GOP for making the effort. But he said he would discourage members from complying with such a request from any outside group.
"We wouldn't want our friends to be selling their personal directories to someone who is selling something. That would be an abuse of our friendship. I would think the same thing about giving it to a political party," he said.