Evangelists to Pat Robertson: Stay Home
Robertson Cancels Speech at Convention
from Washington Post
NORFOLK,
Virginia - Fellow conservative religious leaders have expressed concern over and open criticism of Pat Robertson's habit of
shooting from the lip
on his daily religious news-and-talk television program,
The 700 Club
.
The Christian Coalition founder and former GOP presidential candidate has said U.S. agents should
assassinate Venezuelan President Hugo Chavez
and suggested that Israeli Prime Minister Ariel Sharon's stroke
was divine retribution
for the Israeli pullout from the Gaza Strip.
Some observers say Robertson, who will be 76 next month, courts controversy as a strategy to remain in the public eye and to keep his followers mobilized. Others say that he is important to the evangelical movement that he helped create when he established the Virginia Beach-based Christian Broadcasting Network in 1960, but that he needs to stop damaging it with his words.
He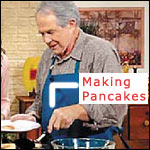 canceled a speech planned for Tuesday at the closing banquet of the National Religious Broadcasters convention in Dallas after NRB leaders said they were worried that his appearance could detract from the event.
"He is in a very visible leadership position, and comments such as recent ones related to Mr. Sharon and so many others are misinformed and presumptuous and border on arrogance," said David S. Dockery, president of Union University, a private college affiliated with the Tennessee Baptist Convention. "It puts the evangelical movement in a bad light."
Robertson, through a spokesman, declined to be interviewed.
He
apologized
after facing swift condemnation for his Jan. 5 statement that Sharon was punished for "dividing God's land."
Richard Land, president of the Southern Baptist Convention's ethics and religious liberty commission, has said he was "appalled that Pat Robertson would claim to know the mind of God concerning whether particular tragic events...were the judgments of God."
Brian Britt, director of the religious studies program at Virginia Polytechnic Institute and State University, said Robertson's remarks are not just "off-the-wall" but part of a strategy that earns him headlines.
When people attack Robertson, he wins sympathy for appearing to be an underdog, Britt said. "It reinforces an image of Christianity as a persecuted religion, a religion that is being hounded by the secularists," he said.