God Is a Bullet
Pastor Arrested in Shooting at Church
from Lompoc Record
An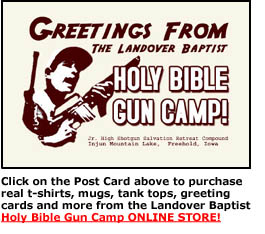 investigation into a Jan. 19 shooting at St. Mary's Episcopal Church took a startling twist Wednesday with the arrest of the parish's pastor, the Rev. Richard Reynolds, on suspicion of filing a false police report.
Reynolds, who also serves as a chaplain for the Lompoc Police Department, was arrested on the misdemeanor charge Wednesday by the Santa Barbara County Sheriff's Department and released.
"Sheriff's investigators began working the case collecting evidence and interviewing several witnesses," officials said in a press release. "The investigation revealed that Richard Reynolds was not being truthful about what had occurred. Investigators determined that Reynolds was in fact responsible for firing the gun that night."
The pastor initially claimed he was alone in his office about 9:30 p.m. when a bullet shattered a sliding glass door a few feet from his desk, and investigators were trying to determine whether the shooting was vandalism, a random accident, or a possible attempted homicide, authorities said.
The
shooting and the arrest stunned church members who know Reynolds as a devoted family man with a wife, three grown children, and an adopted son and daughter from the former Soviet Union.
It is unclear how Reynolds' arrest will affect his status as a police chaplain. He began a leave of absence from his police department duties in early February.
"We will reassess his status."