Christians Voting To Make Their Bible a Textbook? I Hear the Constitution Is a Good Read, a Lot Less Blood...
Senate Democrats Propose Bible Class for Georgia Schools
from The Associated Press
ATLANTA -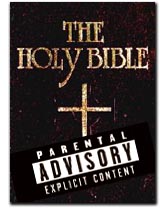 Georgia public school students would be allowed to study the Bible under a plan proposed by Democrats in the state Senate.
The bill would authorize the state school board to approve an optional course in grades 9-12 that would teach about the Bible's influence on literature, art, culture and politics. The bill, introduced Jan. 18 by Sen. Tim Golden, chairman of the Senate Democratic caucus, would allow for "nonsectarian, nonreligious academic study" of the Bible and would require it "be taught in an objective and nondevotional manner with no attempt made to indoctrinate students as to either the truth or falsity of the biblical materials."
Republicans, who have a majority in the Senate, said the Democratic bill appears aimed at garnering voter approval in advance of this year's legislative elections.
"I'm concerned about their timing," said Senate Republican Leader Tommie Williams. "If they were really interested in passing a Bible curriculum bill, I proposed one six years ago."
Williams said he introduced another Bible class bill last year, but was assured by the state Department of Education that current law already allows the classes.
Dana Tofig, a spokesman for the state schools superintendent, said local schools can create classes studying the Bible or other religious texts without permission from the state school board or the Legislature. "There is nothing that stops them, except the separation of church and state - you can't be proselytizing," he said.
Biblical Influence on History 101: Where to begin. The Inquisition? The burnings at the stake? The Knights Templar? The massacre of the Crusades? The torture and murder of scientists? The Flat Earth? Slavery? The butchery of heretics and heathens, known now as non-Christians? Salem witch trials? Oppression of minorities and women? Persecution of those deemed sinners? The drowned babies? The blood money that paid for all that gold and art? The pedophilia? The tyranny? The famine and overpopulation? The corruption? The villifications? The wars? Naziism? The Ku Klux Klan? The impalings and beheadings? Do we address the contradictions and errors in the Bible? The incest? A deity that embodies every petty vanity, pride, jealousy, hatred, and ugly sin mortals burn in Hell for? Who is appeased by the smell of burning blood? Really, the ink should be red.