Wal-Mart Is 'Effectively Banning Christmas'?!?
(P.S.: Catholics Need To Calm! Down!)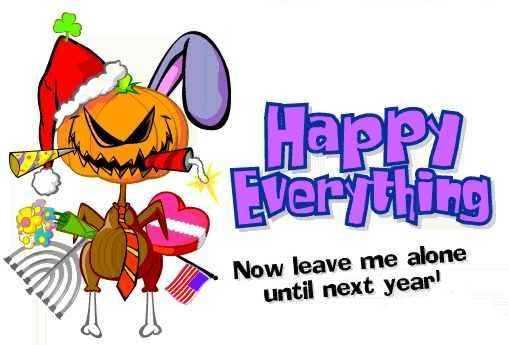 Wal-Mart Says 'Happy Holidays' Covers Several Events
from
AOL Business News
Wal-Mart Stores Inc. on Thursday said it no longer employs a worker who wrote to a shopper that Christmas is a mix of world religions, but that the company does support the generic greeting, "Happy Holidays," as being more inclusive amid year-end celebrations by numerous faiths.

The Catholic League for Religious and Civil Rights criticized the world's largest retailer and called for a boycott over Wal-Mart's approach to Christmas.

"We
want a) an apology for insulting Christians by effectively banning Christmas and b) a withdrawal of its insane statement regarding the origins of Christmas and c) a revision on its website," Catholic League President Bill Donohue said on the group's Web site.

In an interview, Donohue dismissed Wal-Mart's statement that it was respecting multiple beliefs as "corporate arrogance."

"If Wal-Mart, which is the family-friendly institution, gets away with this, then all the other department stores will just fall into line," he told The Associated Press on Thursday.

The dispute erupted after a Wal-Mart worker responded to a woman who complained that the company was replacing "Merry Christmas" with "Happy Holidays." The response described Christmas as a combination of world traditions from Siberian shamanism to Visigoth calendars.

The e-mail, which Wal-Mart spokesman Dan Fogleman said was genuine, said Wal-Mart had to act as a global organization in a world with many different practices.

"The colors associated with Christmas red and white are actually a representation of the aminita mascera (sic) mushroom. Santa is also borrowed from the Caucuses, mistletoe from the Celts, yule log from the Goths, the time from the Visigoth, and the tree from the worship of Baal. It is a wide wide world," said the e-mail, from a customer service worker identified only as Kirby.

Fogleman said Thursday that Kirby no longer worked for the company.

"We at Wal-Mart believe this e-mail between a temporary associate and one of our valued customers was entirely inappropriate. Its contents in no way represent the policies, practices or views of our company. This associate, who was hired less than three weeks ago, is no longer employed by our company," Fogleman said in an e-mail to the AP.

"Wal-Mart is proud to welcome customers of all faiths, and celebrants of all holidays. We sincerely apologize to any person or organization that was offended by the inappropriate and inflammatory comments made by this former associate."

Fogleman said the e-mail had been taken out of context and that the stores, while encouraging employees to say "Happy Holidays," did so to include celebrations from Thanksgiving to Hanukkah, Kwanzaa and New Year's Eve as well as Christmas.