The Logan's Run Policy on the Elderly Looking Better & Better...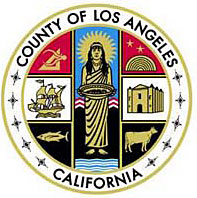 Parishioners Circulate Petition To Restore Cross on L.A. Seal
from Tidings Online
Seeking to restore the cross removed last year from the Los Angeles County Seal [to prevent an ACLU lawsuit], a "group of grandmothers from the San Gabriel Valley" is among those gathering signatures throughout the archdiocese as part of a grass-roots petition drive to reinstate the original seal.
Volunteers at over 15 parishes last weekend staffed sidewalk tables in efforts to contribute toward the 170,000 signatures needed by Sept. 26 to qualify the initiative for the ballot next year. Proponents of the measure want to amend the county code to adopt the 1957 seal as the official seal, requiring voter approval to alter the original design.
Petition drive leader David Hernandez urged the County Board of Supervisors in an Aug. 30 letter to reconsider their decision to remove the cross and "take a bold move and adopt the ordinance" outright, saving "time, money and energy by those who are about to launch the final effort."
Petition drive volunteers noted that a mid-August statement by Pope Benedict XVI was particularly encouraging. "It is important that God is great among us in public life and in private life," Pope Benedict said during a parish church homily in Castel Gandolfo outside Rome. "In public life, may God be present in signs of the cross in public buildings." Benedict added that "contrasts become irreconcilable" when God is shunted aside.
"I'm tired of the ACLU trying to rewrite history," said petition signer Michael Wilson, 51. "Having the cross on the seal hurts no one. It's just a reflection of the history of Los Angeles County, which was founded by Spanish missionaries."
Margaret Madden, 64, signed the petition, declaring: "We have our rights, too. We should be able to see the cross. It's always been there. If it offends somebody, just let them look away."