The Power of Babble:
Speaking in Tongues = Getting Stupid
Scientists Study 'Speaking in Tongues'
from United Press International
PHILADELPHIA -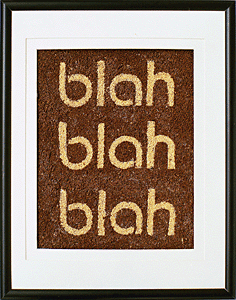 U.S. scientists, in a first-of-its-kind study, have found decreased brain activity in people "speaking in tongues," a condition known as glossolalia.
The unusual mental state is associated with some religious traditions and occurs when people appear to be speaking in an incomprehensible language, yet perceive it to have great personal meaning.
Medical scientists at the University of Pennsylvania School of Medicine measured regional cerebral blood flow with single photon emission computed tomography while the subjects were speaking in tongues.
"We noticed a number of changes that occurred functionally in the brain," said the principal investigator, Dr. Andrew Newberg, an associate professor of radiology, psychiatry, and religious studies. "Our finding of decreased activity in the frontal lobes during the practice of speaking in tongues is fascinating because these subjects truly believe the spirit of God is moving through them and controlling them to speak.
"Our brain imaging research shows us that these subjects are not in control of the usual language centers during this activity, which is consistent with their description of a lack of intentional control while speaking in tongues."
The research appears in the November issue of the journal
Psychiatry Research: Neuroimaging
.