Sugar-Coated Mail-Order Blessings?! And E-Poojas Sound Yummy! Gosh, Hinduism's So Cool & Silly!
Get with the Program, 'Jesus' (Loser)
Hindu Goddess Now Distributes Her Blessings Online
from Boing Boing
Scott Carney
,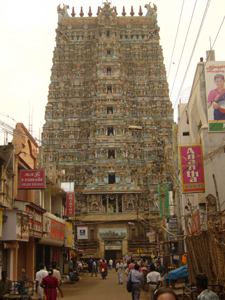 an American expat tech journalist living in Chennai, India, tells BoingBoing,
"One of the most important temples in South India has decided on a new plan to market its religious services.
"Starting some time in the next few weeks the Meenakshi Temple in Madurai will begin offering E-poojas for people who can't make it to the temple for pilgrimage. How's that for mixing religion and technology?"
Link
to Scott's blog post, in which he adds: "For an additional fee prasadam, eatable sugar coated blessings, can be mailed anywhere in the globe."