...with Tenor Placido Domingo As 'Dodo' & Soprano Kathleen Battle As 'Platypus'!
High-Culture Wars Heat Up Over Controversial New Opera
from The Onion
NEW YORK — Proponents of family-themed high art fired another salvo in the high-culture wars Monday, saying the new opera
Darwin: Origin, Selection, Preservation, Struggle
contains provocative lyrics, secular acts, and entire anti-Christian movements.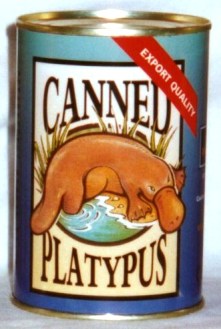 "To think that this relativist filth could be live at Lincoln Center for young children to see," said Rev. L. Duncan Hoskins III, an Upper-East-Side Baptist minister and director of the Center for a Better Class of Family. "We cannot allow this creeping decay that began with the decadence of
La Boheme
and spiraled into the subversion that is
An American Tragedy
to further rot our high society."
Hoskins added that there were many wholesome opera alternatives for traditional men and women of culture, including the Mississippi Opera's marathon 22-hour adaptation of the
Left Behind
series.