Georgia Lurches Toward Theocracy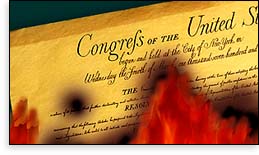 Perdue Signs Bible, Ten Commandments Bills
from The Associated Press
ATLANTA -
Students in Georgia's public schools could begin to take Bible classes as soon as next year, under legislation Gov. Sonny Perdue signed into law on Thursday.
The law will make Georgia the first state to offer state-sanctioned elective classes on the Bible. Both bills passed by comfortable margins in both chambers.
Perdue, a Republican who is up for re-election in the fall, also signed a bill Thursday that permits the display of the Ten Commandments at courthouses, an issue the Supreme Court
recently ruled
can raise thorny constitutional issues.
Critics question whether the measures blur the line between church and state.
National civil rights groups said they are waiting to see how the laws are implemented before deciding whether to challenge them in court.
"There could be constitutional problems," said Jeremy Leaming, spokesman for the Washington D.C.-based Americans United for the Separation of Church and State. "But it could be some time before we know."
The Bible is already incorporated into classes in Georgia and other states, and some local school districts have passed measures permitting Bible classes. But education analysts say the law in Georgia is the first in which a state government has endorsed such courses.
Under the new law, elective classes on the Old Testament and New Testament may be taught to high school students. Local school systems will decide whether to teach the courses. The law requires that the courses be taught "in an objective and nondevotional manner with no attempt made to indoctrinate students."
Some education officials in Georgia oppose the measure, saying it will place teachers in the position of navigating a tricky constitutional divide.
Leaming said the pair of pro-religion bills smacked of "election-year politicking."